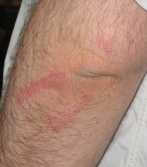 A friend of mine (or more accurately, his parents) recently offered us an air-conditioner. A most welcome addition, given the silly heat levels we've been experiencing, and the complete lack of any cooling facilities in our house. But that left me with the problem of how to get it from their house to ours. I could probably have carried it, although it would have been really tough. I might have been able to borrow a bike trailer from someone (or fit it into the kid's bike trailer (more on that in an upcoming post), but I didn't really know who, or where, and I kind of wanted to get it over here and hooked up fairly quickly. Fortunately, I remembered that I had seen a skateboard amongst some old garbage a block away from my house, so I walked over, and grabbed it.
Now, in my younger days, I used to be quite the 'boarder. Okay, I was never really that good at getting air, but I had no problems getting around on it. So I thought I'ld give it another try. The first push went well, and I glided along for a couple of meters, before hopping off, feeling a little silly. I walked to the end of my street, and then thought about how cool it would look to cruise up to the front door on the skateboard, so I put it down, and hopped on. But this time, my front foot was facing forwards instead of sideways, and when I tried to turn it (in Birkenstocks!), it sort of didn't, and back I went, landing flat on my ass, elbows, and shoulderblades. I'm fairly sure I didn't hit the back of my head, at least not too hard, and it was more my pride that was damaged than anything else, although the muscles on the front of my neck are really rather sore. It did, however, answer one important question. I've still got "it", it's just been packed away and put in the basement, perhaps to be brought out and given to my children in a couple of years.
P.S. It's even scabbier now!