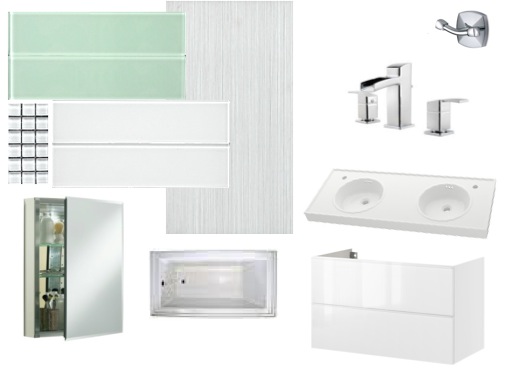 The Amazing Two Bathroom Home-Value-Inflating Reno Extravaganza is plodding along nicely. The basement powder room is framed out, the plumbing and electrical are roughed in and the drywall is up. (Oddly enough the guys who hang the drywall are not the guys who tape and plaster it, so we're in between those two stages at the moment.)
But I digress. This post exists to ask for your help. We're totally redecorating the upstairs bathroom and I have exhausted my teeny tiny decorating muscles.
As you can see in the collage above, the floor tile is a kind of stripey grey (it's the "White" colour), in 12" by 24" rectangles.
We're tiling the walls halfway up with elongated glass subway tile (4" x 16"), mainly white with about 15% bottle green, and a few tiles-worth of white square mosaic tiles in there for texture (and because Delphine really likes them).
The bathtub is really plain and rectangular. The sink is Ikea's Vitviken. (Or perhaps I should say sinkS! Whoo!) The vanity is shiny and white and plain, the medicine cabinet is shiny and plain, the faucets are shiny and sleek and apparently not discussed anywhere on the Internet (but here's the box).
So what colour paint is going to work with the bottle green tiles? Find me a shower curtain the softens up all that sleek shininess. Tell me what else I need! Shop for me, my pretties!