I just finished reading the girls their bedtime books: Oh, The Places You'll Go by Dr Suess for Cordelia and almost a chapter (the one where he gets the Bootle-Bumtrinket) of My Family and Other Animals by Gerald Durrell to Delphine.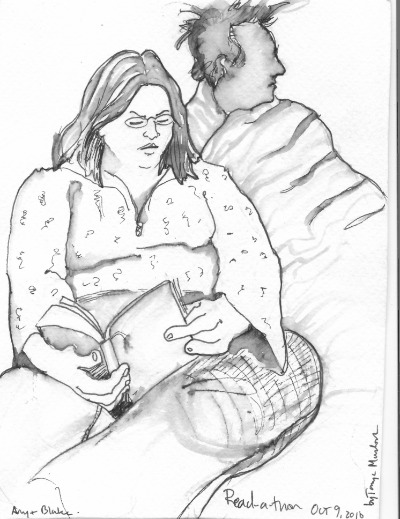 Tanya brought her kids over to play with my kids, and while she was here she documented the read-a-thon in pen and ink. Blake is in the background cuddled up under a blanket because we were sitting in the backyard and the sun was going down.
I'm almost halfway through Raincloud by Richard S. Todd, which is better than I expected it to be. It's a mystery set in a small town near a First Nations reserve: a series of Native people have been found beaten and left for dead. It shouldn't be too hard to finish.
But we're approaching the challenging part of the read-a-thon for me: staying awake. I love sleep. Specifically I love eight hours of sleep, and I haven't pulled an all-nighter since university. I don't expect to pull an all-nighter tonight, but I'm worried that if I time it wrong I will go to sleep and not wake up until after 8 tomorrow, thus missing the end of the 'thon. My plan is to stay up late – maybe midnight or one (shut up, that is so late) and then sleep on the couch for a couple of hours. Then I'll grab a coffee or a Coke and read until 8 am, then try (probably in vain) to sleep for a little while before resuming my regularly scheduled Sunday.
We'll see how it turns out.